Here's a secret that a few lucky people already know: summer isn't the best time to own a convertible, the fall is.
Weeks like these, when the leaves crackle underfoot and cold air nips at your ears, are a time of bliss. Simply lower the roof, crank up the heater, and go for a blast. The days are short, so you might as well take advantage of them.
I'd never really thought of myself as a convertible person. There's an air of Hawaiian-shirt-plus-yellow-Corvette to the image. Instead, I favoured a coupe or sedan or hatchback, something practical and focused on the task of driving.
However, when you're staring down a week's forecast of sun, it's hard not to be a fan of open-topped motoring. There was a time, you know, when people thought that convertibles might be banned outright. It's why the Porsche 911 Targa exists – Porsche was of the opinion that drop-tops would be off the menu in North America in the 1970s, so they built a car with a sort of integrated roll-bar.
Anyway, the end of the year is actually a pretty good time to buy a convertible if you've been thinking about it. There's still a last sliver of daylight to get some use out of the thing, and most people are buttoning up their garages for the winter. You can get a deal on a 2019 year model, and/or win a bargain as someone realized they have to choose garage space between a massive new ride-on lawnmower or the ragtop they hardly used this year.
Here are a few of the best ways to get top-down fun when the sun gets up late and goes to bed early.
Best roadster: Mazda MX-5
It's still the king. The MX-5 is one of the last proper two-seater open-topped roadsters out there, having survived multiple attempts by other automakers to capture the magic.
At 30, there are literally a million MX-5s to choose from. Generally speaking, the newest one you can afford is the best. The latest edition, with its upgraded engine, is an utter delight to drive. It's very quick, with sharp handling, and a chassis that'll teach you a thing or two about driving dynamics. But the original, the NA, is still a charmer, as are the second generation and third generation cars. The latter, with the folding hardtop, is probably the most livable for a daily driver.
The first cars are now eligible for collector plates, which makes for cheap insurance. Regrettably, this has driven prices up a bit, but they're still inexpensive overall. Mazda's got a new program that will let you order hard-to-find parts for your classic NA Miata, so there's never been a better time to buy one.
Best four-seater: Ford Mustang
Part of the greatest joy in a convertible is sharing the experience with someone else. If you've never taught your kids about sticking their arms up into the slipstream, then you should get on that. It's wonderful stuff.
And, happily, it's an accessible experience thanks to the Ford Mustang. If, for instance, a convertible is something that only really makes sense on a family vacation, then you can simply rent a Ford drop-top the next time you head south for the winter. There's pretty much guaranteed to be one in the rental fleet, wherever you go.
For your own garage, the Mustang comes with a range of engine options. The four-cylinder turbo is up to the task, especially for a car you might commute in, but I'd recommend the V-8, as it comes with a great soundtrack. Just make sure to power down that soft top every chance you get.
Best luxury choice: Mercedes S-Class convertible
Hoo boy, this is an expensive one. The S-Class has probably the best convertible experience you can have outside of a Rolls-Royce, and might even have better seats than the Roller. All Mercedes open-topped models come with a neat feature called air-scarf, which blows warm air around your neck.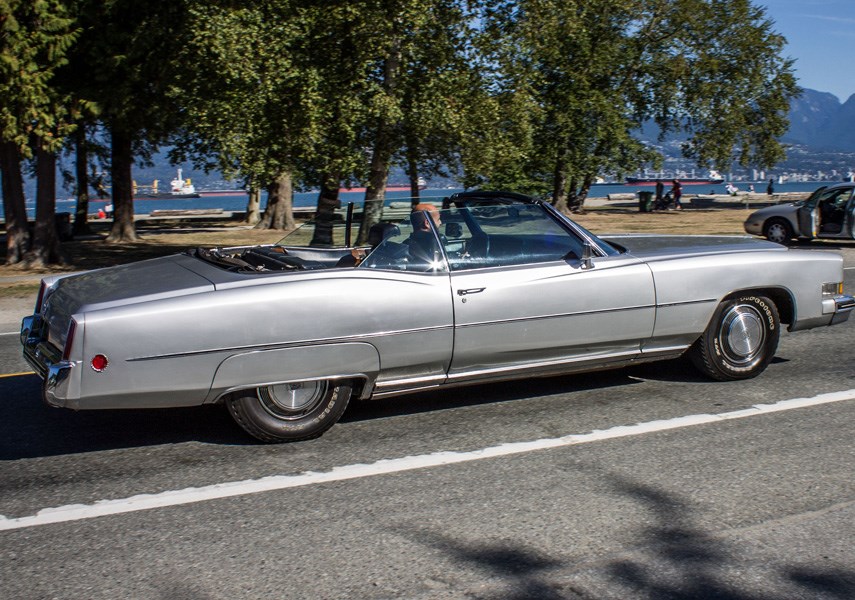 It's wonderful, and as the S-Class is more suited to wafting rather than sporty driving, it's the best way to enjoy a convertible even when there's plenty of traffic out.
Best luxury boat on a budget: any old Cadillac
One of the undiscovered secrets of the motoring world is how inexpensive big American land yachts have become. They aren't collectible, and they are underappreciated. For value per pound, you can't do better.
Sure, they're floaty to drive, and interior quality is not really on the menu. However, a big Yank tank from the 1970s or 1980s (honorable mention to Buick) is one of the essential motoring experiences you can have.
Think Los Angeles low-rider, except on a dollar-menu budget. Get out for a cruise while the sun is still shining, and then moor your inexpensive ocean liner when the snow starts falling.
Brendan McAleer is a freelance writer and automotive enthusiast. If you have a suggestion for a column, or would be interested in having your car club featured, please contact him at mcaleeronwheels@gmail.com. Follow Brendan on Twitter: @brendan_mcaleer.