Unvaccinated British Columbians are filling intensive care units at a rate that's 27 times higher than those who have received two doses of a COVID-19 vaccine.
Between Dec. 11 and Jan. 12 — a period roughly equivalent to the rise of the Omicron variant in B.C. — unvaccinated British Columbians accounted for 47 per cent of hospitalizations, compared to 53 per cent for those vaccinated with one, two or three doses.
Despite the nearly 50-50 split, people who have received at least one dose of a COVID-19 vaccine account for over 82 per cent of B.C. residents — meaning they are landing in hospital at a much lower rate than the unvaccinated.
"We think we hit the peak of community transmission this past weekend," said provincial health officer Dr. Bonnie Henry at a press conference Friday.
"But we're still at the point where our hospitalization rate is going up."
Henry said B.C. has seen a lower and slower rise in hospitalizations than initially expected.
But due to the lag in hospitalizations, the health-care system won't see the worst of the fallout for another week or two.
Over that time, daily hospitalizations are projected to peak between 100 and more than 200 new admissions per day, according to projections from the BC Centre for Disease Control (BCCDC).
No matter what age, not getting vaccinated makes residents much more likely to end up in a hospital bed or die of the disease.
Between the first week of December and the first week of January, unvaccinated residents infected with COVID-19 were admitted to hospital at a rate 12 times higher than those with two doses of a vaccine.
Two-thirds of the people who have died from COVID-19 in B.C. over the last month have been unvaccinated despite making up only 17 per cent of the population. Overall, the death rate among unvaccinated people was 40 times higher than the vaccinated.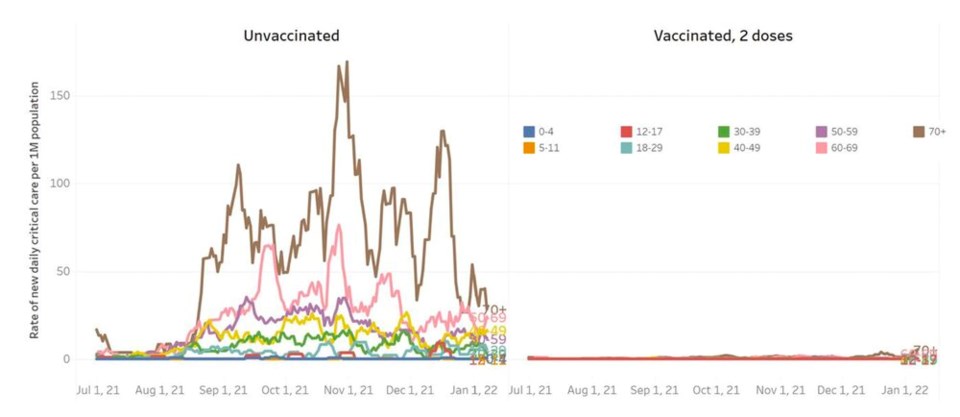 DELTA STILL DEADLY
Health officials say it took roughly four to six weeks for the Omicron variant to dominate all other strains of COVID-19 in B.C. That's roughly half the time the Delta variant needed.
But unlike Delta, the Omicron strain is leading to more breakthrough infections. The highly contagious strain is burning through the global population at a rate not seen since the start of the pandemic.
While not as likely to lead to severe illness in many cases, the sheer number of infections means a large number of hospitalizations.
Over the past week, 580 people have been hospitalized due to COVID -19 and 32 people have died.
Age is still the major risk factor for hospitalization due to COVID-19, and B.C. residents 70 and older are still seeing an uptick in hospitalizations even if they have received two vaccinations.
Henry urged British Columbians in this age group to get boosted as soon as possible to ward off the risk of serious illness.
Roughly 53,000 people in the 70-and-over category have received invitations to get a booster but haven't done so.
"We need you to get boosted today," said Health Minister Adrian Dix.
Nine children zero to four and two children five to 11 years old have been admitted to hospital in the past week, though none in either age group have been brought to the ICU.
The five-to-11-year-old cohort has only had access to one dose of the Pfizer paediatric COVID-19 vaccine and vaccination uptake has lagged.
Henry said the Omicron strain is causing more upper airway infections in children, which in turn, is triggering asthma and bronchiolitis.
As of Jan. 12, a little over half of the roughly 350,000 children five to 11 had registered or received a dose of the vaccine.
Vancouver Coastal Health and Fraser Health are driving hospitalizations, according to data from the BC Centre for Disease Control.
On Vancouver Island, hospitalizations have plateaued but have not begun to fall. And in the Interior and north of the province, cases are still climbing.
When it comes to the peak of the Omicron wave, Ontario and Quebec are not as far ahead of B.C. as initially thought, said Henry, pointing to emerging evidence.
One reason is that patients with an Omicron infection are likely to spend half the amount of time in hospital compared to someone with Delta, according to BCCDC data. Moreover, those infected with Omicron are 60 per cent less likely to land in an ICU, and 60 per cent less likely to eventually die.
"B.C. is following a very close path to what we've seen in South Africa and what we've seen in the U.K.," said Henry, noting it's another sign the province is on a downward trajectory in cases.
Another is data from wastewater treatment plants in the Lower Mainland — all of which show a decline in concentrations of the virus.
But others have cast doubt over wastewater data. UBC infectious disease modeller Sally Otto said the data can appear "wobbly" when heavy rains flush through the system.
Otto projects hospitalizations will likely peak at 4,000 cases later this month, with ICU stays peaking at over 2,000. That's triple the province's capacity.
Henry painted a less drastic picture of the pressures about to descend on hospitals.
She said about 45 per cent of the people in hospital who are testing positive for the virus arrived for another reason — such as a mental health problem, a scheduled surgery or unrelated emergency visit.
"Most of the people being admitted to hospital still are being admitted because of Delta," she said.
Delta is also more likely to lead to patients requiring critical care or to be placed on oxygen in an ICU.
Henry said all of those cases will be reported together starting Friday to show the overall burden on the health-care system. She said her office would also be reporting more data on the rate of the severity of COVID-19 illness across B.C.
To get through the coming weeks, Henry has the same advice for British Columbians: "If you develop symptoms, stay home and stay away from other people."
By spring, she said, the lives of British Columbians will likely open up as the province shifts away from pandemic restrictions and learns to live with the virus.
She added: "The caveat we have is this virus continues to change and modify itself, and surprise us in many ways."