Families on the North Shore have been among the most enthusiastic in getting their children vaccinated quickly.
Kids five to 11 in North and West Vancouver are among the most vaccinated in the province, just one week after kids became eligible for COVID shots in B.C., according to data from the BCCDC.
That information shows between 35 and 38 per cent of elementary school aged kids got their first shots in the first week in parts of North Vancouver – a percentage second only to areas like south Cambie and Kitsilano in the Lower Mainland. Overall, about 32 per cent of kids in North Vancouver and 22 per cent of kids of West Vancouver had got their first doses of vaccine by Dec. 7, according to the BCCDC.
Many other areas of the province showed single-digit rates of vaccination in that age group so far.
Meanwhile, the number of new COVID cases on the North Shore is up slightly this week.
There were 39 new cases of COVID-19 on the North Shore in the past week – nine more than the 30 cases reported last week.
Between Nov. 28 and Dec. 4 there were 28 cases in North Vancouver and 11 in West Vancouver, according to information released by B.C.'s Centre for Disease Control.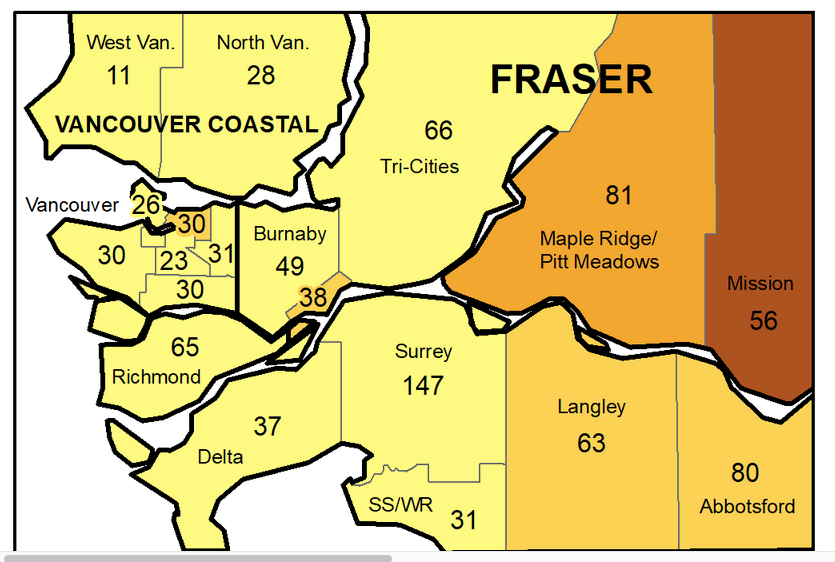 Data from the BCCDC shows rates of new infections were up slightly in the City of North Vancouver and the western part of the District of North Vancouver. Rates were down in West Vancouver. Rates ranged from zero to four daily cases per 100,000 throughout the North Shore.
Positivity rates for COVID-19 tests on the North Shore ranged between zero and three per cent.
Rates of vaccination in the rest of the population on the North Shore are mostly static, with between 92 and 95 per cent of people over 12 already having received one dose and between 89 and 93 per cent of those fully vaccinated as of Nov. 30.
Between 90 and 94 per cent of teens between 12 and 17 are fully vaccinated on the North Shore while between 87 and 94 per cent of adults between 18 and 49 have received both shots. Rates of vaccination remain highest in adults over 50 with between 90 and 93 per cent fully vaccinated.
Between 58 and 64 per cent of adults 70 and older and between 23 and 30 per cent of adults 50 and older have also received booster doses on the North Shore.
The province announced this week that people 65 and older will become eligible for booster doses starting this week. People over 50 can expect to become eligible in January.
Dr. Bonnie Henry, the provincial health officer, reported this week B.C. has now recorded five cases of the Omicron variant of the virus, first identified in South Africa, with more cases expected to be confirmed. The variant, only recently identified, is of concern to health authorities around the world because of its high number of mutations. The virus is thought to be much more transmissible than earlier variants although scientists still don't know yet if it causes more severe illness or may evade protection from vaccines and result in more breakthrough infections.
Of the cases identified in B.C., three cases were in fully vaccinated people. So far all the cases have been in people who have recently travelled from countries in Africa or from Iran, said Henry. So far all of the cases have been mild or asymptomatic, said Henry, including cases that have been picked up by mandatory airport screening.
The federal government moved last week to halt travel from a number of African countries in an effort to stop the spread of the virus. All travellers arriving from destinations outside Canada and the United States must also take a COVID-19 test on arrival in the country and quarantine until results are known.
Provincially, 379 new cases of COVID-19 were reported Wednesday.
A total of 224 were hospitalized with the virus and 77 people were in intensive care in hospital.
In the past two weeks about 67 per cent of hospitalizations in the province from COVID were among people who were not vaccinated.​
​
​
​
​
​
​