​The number of new COVID cases on the North Shore has increased this week.
There were 64 new cases of COVID-19 on the North Shore in the past week – 24 more than the number reported last week.
Between Nov. 14 and 20 there were 44 cases in North Vancouver and 20 in West Vancouver, according to information released by B.C.'s Centre for Disease Control.
Data from the B.C. CDC shows rates of new infections are up in most areas of the North Shore this week, except for Bowen Island/Lions Bay where rates have come down. Rates were highest in the lower part of West Vancouver and western area of the District of North Vancouver at eight daily cases per 100,000.
Positivity rates for COVID-19 tests on the North Shore were highest in West Vancouver at between five and seven per cent. Positivity rates were between one and four percent in most areas of the North Shore.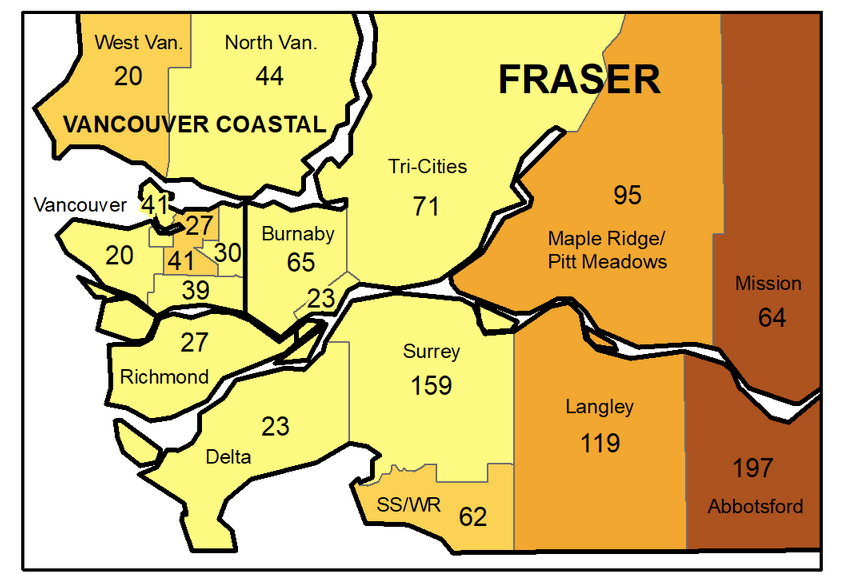 Rates of vaccination on the North Shore are mostly static, with between 91 and 95 per cent of people over 12 already having received one dose and between 89 and 93 per cent of those fully vaccinated as of Nov. 23.
Between 89 and 93 per cent of teens between 12 and 17 are fully vaccinated on the North Shore while between 86 and 93 per cent of adults between 18 and 49 have received both shots. Rates of vaccination remain highest in adults over 50 with between 90 and 92 per cent fully vaccinated.
Provincially, 322 new cases of COVID-19 were reported Wednesday. A total of 318 were hospitalized with the virus and 109 people were in intensive care in hospital.
The outbreak at Amica's Edgemont seniors home in North Vancouver has also been declared over in the past week.
In the past two weeks about 61 per cent of hospitalizations in the province from COVID were among people who were not vaccinated.​
The province has announced a vaccine rollout for children five to 11 will start at clinics in B.C. next week, following recent approval of a children's vaccine from Health Canada. Invitations are expected to go out to families who have registered their children starting Nov. 29.
Last week, Dr. Bonnie Henry, the province's medical health officer, also reported B.C. has reported its first case of a sub-strain of the Delta variant AY4.2 in a Fraser Valley family. That sub-strain of the virus was first identified in the U.K. and is thought to be more transmissible than the "regular" Delta strain.
​
​
​
​