Heavy hitting environmental godfather David Suzuki is throwing his support to NDP candidate and climate activist Avi Lewis in the riding of West Vancouver – Sunshine Coast – Sea to Sky Country.
Suzuki, whose name is synonymous with environmental activism in Canada, came out Thursday to rally about 40 NDP campaign workers for Lewis at John Lawson Park before they headed out to stump for votes in West Vancouver.
Suzuki said he's supporting Lewis because Canadians need to elect "climate champions" who will force the government to take action on climate change.
Lewis is a guy who "gets it" on climate change, he said.
"We can't afford to let an issue like climate change be a political football," he said. We've all got to be working together. And so I've chosen to support anybody who I feel is going to be a climate champion."
Lewis, being touted as a star candidate in the riding, has cred in the environmental movement. A filmmaker and activist, Lewis is married to climate change campaigner Naomi Klein. He's also the son of Stephen Lewis, a former leader of the Ontario NDP and grandson of David Lewis, who led the party federally.
In the local riding, however, Lewis acknowledges he's coming in as the underdog.
The riding was held for years by the Conservatives, flipping to the Liberals in 2015.
In the 2019 election, the NDP finished in fourth place in the riding with just 14 per cent of the vote, compared to the Liberals' winning 35 per cent and the Conservatives' 27 per cent. Greens came third with 22 per cent.
"It's not an NDP stronghold," Lewis acknowledged. "But it's a big riding and Sea to Sky and the Sunshine Coast and West Vancouver all have a significant population of environmentally-minded and climate-minded voters."
"People here understand sea level rise, and its impact on property values. People here understand with all the tankers going by and the container ships, what it would mean to have the TMX pipeline actually completed, and to see tanker traffic explode in the inlet, and for there to be a spill," he said.
Lewis said the difference this time is the NDP is putting its full firepower behind the campaign, including spending up to the amount allowed by Elections Canada.
With the Green Party deeply divided federally, Lewis said there is a chance for the "green progressive vote" to unite under him.
Lewis also hopes to win back "progressive" voters who opted to vote "strategically" during the last two elections to keep the Conservatives from forming government. Those voters have become disillusioned with the Liberals' failure to deliver on climate promises, he said.
"When we finally got out of the Harper years, for us on the progressive side of the spectrum, that was a big deal," he said. "And a lot of people voted Liberal in 2015 and 2019, feeling like they really were going to take on climate change." But that didn't happen, he said. Instead, "emissions have continued to go up. And the Liberal government bought a pipeline."
Suzuki counts himself as one of the former "strategic voters" who has become disillusioned.
Suzuki said he voted strategically for a Liberal candidate in 2015.
That was "the only time in my life I voted for the party that won (the election)," he said.
But he added, "I simply can't go along with it anymore."
Suzuki said he's spoken with Environment Minister Jonathan Wilkinson, MP for North Vancouver, but doesn't feel the Liberal environmental promises are enough. Or that they'll be kept.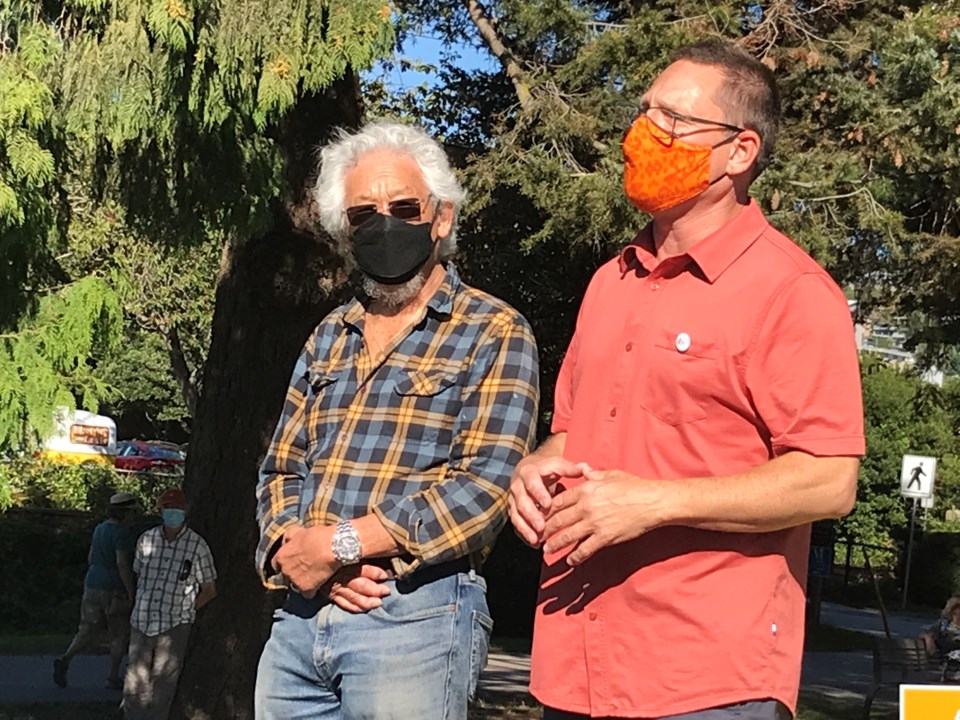 "'Net zero by 2050.' That sounds great. But wait a minute. How many elections will there be between now and 2050? So then, what kind of commitment is that? And then how many of the members of parliament in office today will still be in office in 2050?
We have not met a single promise, we have signed . . . We've set and agreed on targets, we have never met them. So now net zero by 2050. Wilkinson won't be in office. Trudeau won't be in office. Nobody's responsible for meeting that."
Suzuki isn't just supporting Lewis. He's also supporting Anjali Appadurai, a climate activist who is the NDP candidate for Vancouver Granville and several Green candidates, including former federal leader Elizabeth May in Saanich-Gulf Islands and Paul Manly in Nanaimo-Ladysmith, as well as climate scientist Devyani Singh in Vancouver Quadra.
He also supports a Conservative – Michael Chong in the Ontario riding of Wellington-Halton Hills.
The environment is too important to be a partisan issue, said Suzuki, adding none of the federal leaders are promising strong enough action on climate change "because they're playing in a political arena. We need members who will speak up on principles."