Favourite political topics including what to do about transit, how to support housing for middle-class workers, and whether tax dollars are being spent wisely in West Vancouver all got an airing at all-candidates forum for mayoral hopefuls Thursday night (Sept. 29).
Hosted by Ambleside and Dundarave Residents Association, the forum trod much of the same ground as that explored by council candidates in the seniors activity centre two days earlier. A standing-room-only crowd, some spilling out into the hallway, came out to watch three mayoral candidates trade shots. The fourth candidate, Teresa De Cotiis, didn't show up.
The issue of housing, and how best to provide it for people who work in West Vancouver as well as seniors, dominated discussion.
Housing questions topped debate
The "reverse commute" of people driving in from other communities to work in West Vancouver is one of the biggest causes of traffic congestion, said Mary-Ann Booth, who is hoping to reclaim her job as mayor. On a tour of West Vancouver fire stations, "I found one firefighter who lives on the North Shore," Booth said. "Our police chief doesn't even live here. He can't."
Booth pointed to the development approved by council on land owned by the municipality on Gordon Avenue that will combine market condos with subsidized rental housing for working people earning between $50,000 and $150,000 as the type of project West Vancouver needs more of. "If we don't have that we're in big trouble," she said.
Challenger and former mayor Mark Sager questioned whether the municipality should be giving subsidized housing to people earning in the upper range of that income.
"That's not on the top of my priority list," he said, "giving subsidies to people who make $175,000."
He added even if household income rose, tenants wouldn't move out.
Sager also suggested rising interest rates and construction costs mean the Gordon Avenue project may not be viable and will come back for review – a suggestion Booth rejected.
"The project is not going to fall through," she said.
Booth said most rental buildings in West Vancouver were built in the '60s and '70s, and the municipality needs to add to its supply if it wants prices to come down.
Marcus Wong, a current West Vancouver councillor who is also challenging Booth for the mayor's chair, said he sees projects like Gordon Avenue playing an important role in providing housing for working families.
"Is it the perfect solution? Probably not. But then, there will never be a perfect solution," he said.
Sager said he'd prefer to encourage people to buy homes in West Vancouver rather than rent them. He said he'd like to like to explore more options like rent-to-own and stratification of existing single-family lots to do that.
He said he doesn't think many families "necessarily want to live in a high-rise apartment building. That's why they move out to Squamish or the (Fraser) Valley," he said.
He criticized market condos being built in developments at Taylor Way and Marine Drive, questioning if anyone would want to live there.
"Park Royal towers is already sold out," Booth said. "Which shows you the demand."
"That's why 50 per cent of the people buying condos in Lower Lonsdale are from West Vancouver."
Wong said he'd prefer to see coach houses encouraged.
If the 10,000 single-family homeowners had incentives to build a 500-square-foot coach house on their properties, that would create a significant increase in available housing, he said.
"Wouldn't you rather live in that kind of housing than a tall tower?" he said, adding that stock like coach houses would be "tucked away" unobtrusively in communities.
Wong said he'd also like to see other types of housing models, like co-ops, encouraged.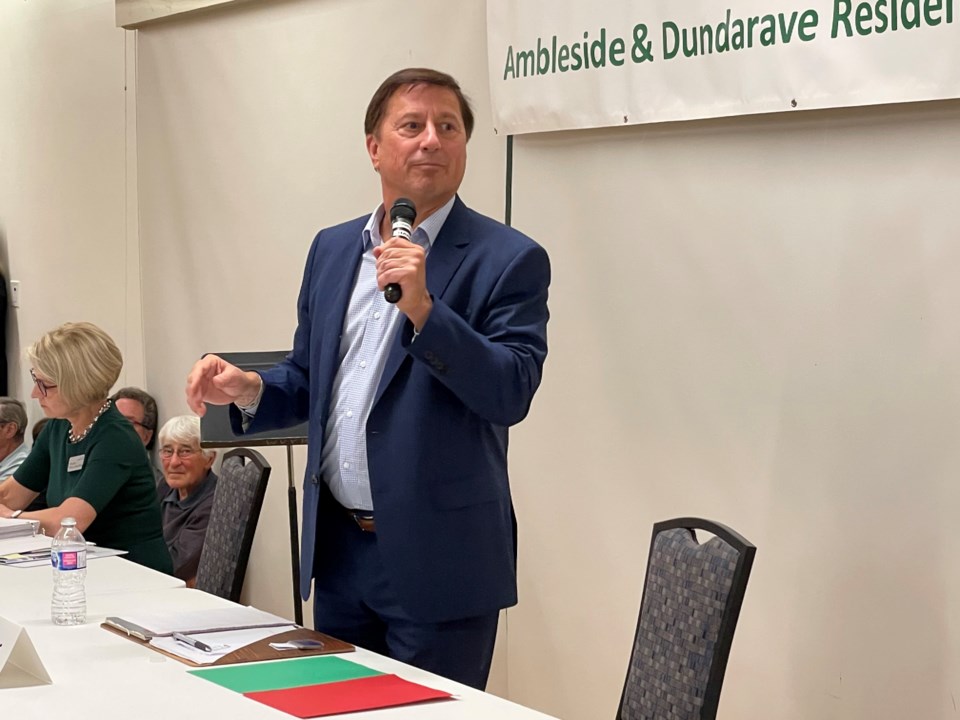 Cypress Village, Inglewood expansion raised
Candidates also addressed some specific development projects.
All three voiced support for plans for the Cypress Village development that will see 3,700 housing units built over 30 years by British Pacific Properties. The plan includes trading greater density in some areas for preservation of a large area of Upper Lands, near Eagleridge Bluffs.
"I think it makes a lot of sense," said Wong, adding he lives in the British Properties and currently residents there must drive to the lower part of West Vancouver to shop.
Sager and Booth differed on support for the Inglewood Care Centre redevelopment plan being proposed by Baptist Housing, which will see the aging long-term care home on Taylor Way rebuilt, along with additional privately funded long-term care beds, independent living units for seniors and "workforce housing" units.
Two-out-of-three long-term care facilities with publicly funded beds in West Vancouver have closed in recent years, said Booth, adding the pandemic showed older care facilities aren't up to modern standards. If the Inglewood project goes ahead, the added density from additional privately funded beds will help pay for the publicly funded beds, she said, and come with a $500-million investment from BC Housing, CMCH and Baptist Housing.
"We desperately need this care," she said. "We have one of the oldest communities in the Lower Mainland."
Sager questioned the size and scale of the project in that location, as well as the inclusion of workforce housing.
"We desperately do need care facilities," he said. "Do we need eight- and 10- storey buildings in that neighbourhood? I really hope not. I don't think it's fair to that neighbourhood."
People who work in facilities like that "want to go home to their own families," when their shift is done, he said. "They don't want to live next to the hospital where they work."
Wong said West Vancouver needs public care for seniors. "Thirty per cent of our population is 65 and older," he said. "We need to make sure we're caring for our population."
But he said he wasn't sure how much density is too much, because the municipality has not completed local area plans.
All three said they support keeping the existing zoning for care homes on the sites of the former West Vancouver Care Centre and Capilano Care Centre.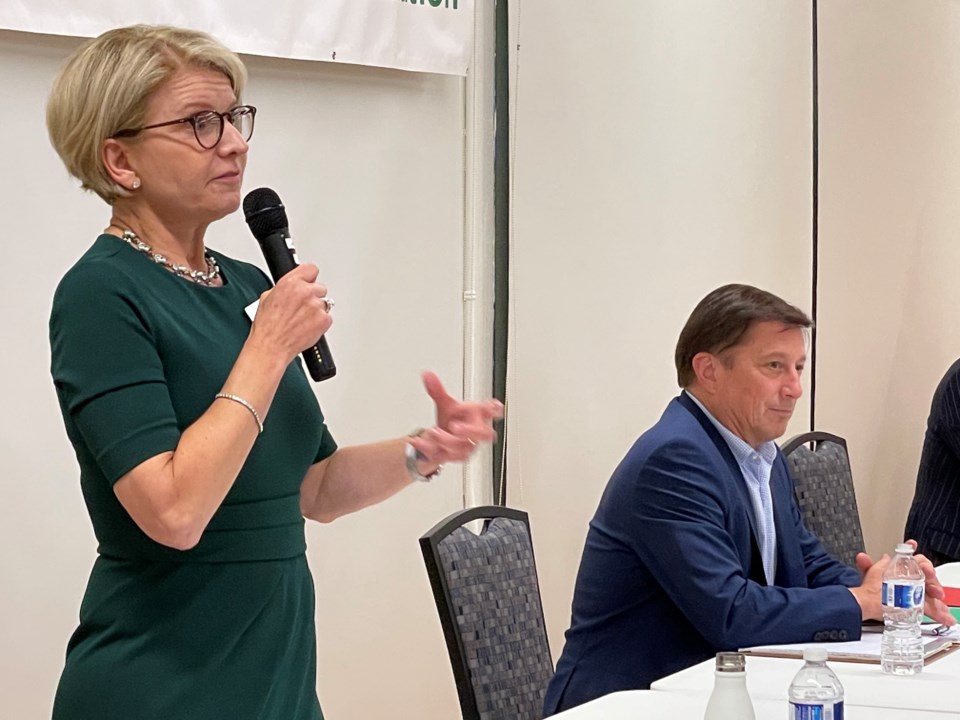 Concern voiced on Eby's plan to overrule municipalities
All three also voiced concern about NDP leadership hopeful David Eby's announcement this week that if he becomes premier, the province will take a more active role in forcing housing developments on municipalities.
"I'm very strongly opposed, and we need to take this threat seriously," Sager said.
"I'm also against these plans and we've seen them coming for many months," said Booth, adding West Vancouver has been on the radar of the province, because "there have been a number of really good housing projects that we've turned down.
"No municipality in this province is going to be happy with this," she said. "If anything, it's a shot over the bow."
B-Line to Dundarave not supported
Candidates were also asked whether they support a B-Line bus from Park Royal to Dundarave. Booth – who faced public opposition to the original plan by TransLink - said she wouldn't support it, "until the community's ready."
Sager said he doubts West Van will ever be ready for a B-Line extension.
Sager put forward the idea of smaller-scale, "transit on demand" in West Van.
He criticized Booth for not sitting on the TransLink mayors' council, saying it sends the wrong message about how West Vancouver views transportation issues. He also advocated running a bus to Squamish for commuters to cut down on congestion.
Spending priorities debated
Both Sager and Wong took aim at what they described as district spending on "nice to haves" before taking care of basics like traffic lights and potholes.
"I'm not convinced we're spending our money wisely," said Wong, pointing to a district program he described as "teaching people to grow their own food" as an example.
"I'm not sure that's the mandate of our municipality. We need to be prioritizing the things in our community that really need to get done – paving the roads," he said.
He called for a fiscal overhaul and a resetting of priorities at district hall.
"We have to understand we have limited resources," said Sager, adding people are struggling to pay their property taxes. He pointed to a municipal program that pays to pick up compost and recycling in district parks and a one-per-cent environmental tax levy as "virtue signalling."
Booth defended municipal budgets, adding the municipality is still recovering from years of "zero-per-cent tax increases" under past councils, which had meant taking money from the capital budget to pay operating costs, and seeing municipal assets degrade.
Other topics touched on in the forum included the need for greater transparency and citizen engagement, what kind of arts centre should be built, and where, where a boutique hotel should go and how tall it should be, as well as whether there should be any change to the Blue Bus system.
General voting day is Saturday, Oct. 15. Visit our 2022 Civic Election webpage for more election news, including candidate Q&As and where and how to vote on the North Shore.
Not sure if you are already registered to vote? The Election BC's online voter registration system allows you to register to vote, check if you are already registered to vote, or update your voter registration details.
jseyd@nsnews.com
twitter.com/JaneSeyd