A 51-year-old woman arrested by police last fall for blocking a roadway outside B.C. Environment Minister George Heyman's constituency office on West Broadway has come forward to share her story about being handcuffed and transported to jail in a police wagon.
Jillian Maguire, a Vancouver secondary school teacher, was protesting the government's refusal to stop logging companies from cutting down old-growth trees in the province when she was handcuffed and placed in a police wagon on Sept. 13, 2021.
Eleven days later, Maguire filed a complaint with the Office of the Police Complaint Commissioner in which she described the method of transportation as inhumane and unsafe, noting she was seated in the wagon with her hands handcuffed behind her back.
Wagons are not required to have seatbelts.
'I started crying'
Maguire, who said she has never been arrested, believed she was going to be transported in a police car — without handcuffs — to the jail on East Cordova Street. She said she had a panic attack after being handcuffed and put in what she described as a small metal box in the wagon.
"I started crying, I told them I was claustrophobic and that they couldn't put human beings in there," she said in an interview Monday.
"One officer said that I didn't have to be arrested, and that I could walk away. But another officer was saying, 'Well, how much does your cause mean to you?' So the only option was don't get arrested, and then your cause means nothing to you, or get arrested and go in this wagon."
Maguire's cause means a lot to her, she said, noting she joined about 40 other protesters that day outside Heyman's office because she is worried about climate change and governments' inaction on protecting the planet from global warming.
Taking to the streets — in this case, blocking several lanes of West Broadway near Cambie Street — was the logical step to voice her concerns.
"The climate crisis is so bad, and me being a middle-aged white lady of privilege, I decided to put my time in," she said, noting she was charged with mischief and has a court date next week.
"Maybe it's just showing my privilege, but I had no idea that this is how they are transporting people. I wouldn't put my dog in one of those boxes. You can't see outside, there's no window."
Handcuffing policy
Once inside the wagon, she said, she had another panic attack and started banging on the metal surrounding her and screaming. She said either the wagon driver couldn't hear her or ignored her until arriving at the jail.
"When they opened the door, there were about 10 special constables standing outside and they seemed surprised that I was upset at being trapped in this wagon, even though everybody who was at the arrest knew that I was feeling quite traumatized by the whole process," she said, her voice cracking as she told her story.
Maguire noted the Vancouver Police Department's handcuffing policy gives officers discretion on whether to use restraints. That discretion can be based on several factors, including the age of a person, medical condition, race or protecting the person from harm to themselves or the general public.
"No peaceful activist that I have seen in the last 20 years poses any risk of harm to self or others during arrest," she said. "Handcuffs would seem to be unnecessary in these circumstances."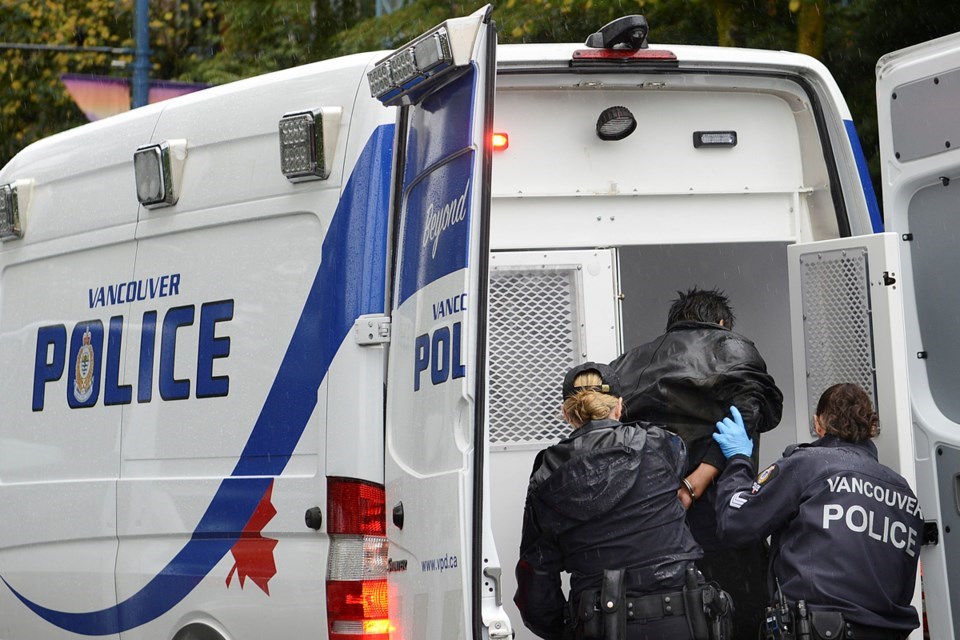 'A rare impression'
The Vancouver Police Board's complaint review committee decided on Feb. 24 not to take any action on Maguire's complaint. The decision was made after the committee reviewed a report from a VPD sergeant on the arrest.
The VPD "appreciated the complainant's experience that they found the wagon frightening and inhumane, particularly as they are claustrophobic," the report said.
"A review of this situation and the general experience of detainees suggest this is a rare impression and that in this case officers took extensive measures to provide the complainant with alternatives and support," said the report, noting Maguire was asked five times to leave or face arrest.
"The use of wagons provides a safe, efficient, and appropriate method of transporting detainees in Vancouver."
The report pointed out the Vancouver jail received 11,466 "detainees" last year, with more than 10,000 arriving by wagon. The average number of detainees lodged at the jail in the last two years was 955 per month.
In the last 10 years, two detainees of a "conservatively estimated 103,000 wagon transports" suffered injuries in relation to collisions. Both received minor injuries, were transported to hospital for treatment and subsequently released back to police custody.
Two deaths connected to police wagon
What the report didn't include was the death of Gregory Douglas Lloyd, 43, who died in February 2014 in hospital five days after police arrested him for breaching court-ordered conditions not to consume alcohol or be in a one-block radius of an apartment in the 2100-block of Triumph Street.
After parking the wagon at the Vancouver jail on East Cordova Street, police discovered Lloyd with a shoelace around his neck. It was tied to wire mesh covering the inside of the wagon's door. His death was ruled a suicide.
Cheryl Ann Cowan, 58, died in December 2014, eight days after going into medical distress while in a wagon. Police arrested Cowan after responding to a 911 call of a woman causing a disturbance at a family member's house.
Cowan's cause of death was "severe anoxic brain injury due to a cardiac arrest," according to documents released by the Independent Investigations Office. Police didn't know she was unconscious until an officer opened the door of the wagon parked at the jail.
Nurses, jail staff, a doctor and firefighters all responded to Cowan, who regained a pulse after treatment from paramedics. She was on life support in hospital until her death, Dec. 23, 2014.
Vancouver police have since installed security cameras in the back of all nine of its wagons.
In Maguire's case, she never set foot in a jail cell but waited in the wagon until she was released and given a court date to respond to charges. The police report said the wagon driver began the trip to the jail at 6:26 p.m., with Maguire leaving the wagon at 7:02 p.m.
At the police board meeting, the department's director of planning, research and audit section Drazen Manojlovic said he agreed to Maguire's challenge to take a ride in the wagon.
He didn't provide an assessment to the board of his ride, but said he felt it important "to credibly speak to the complainant's complaint and that someone at the VPD go through it."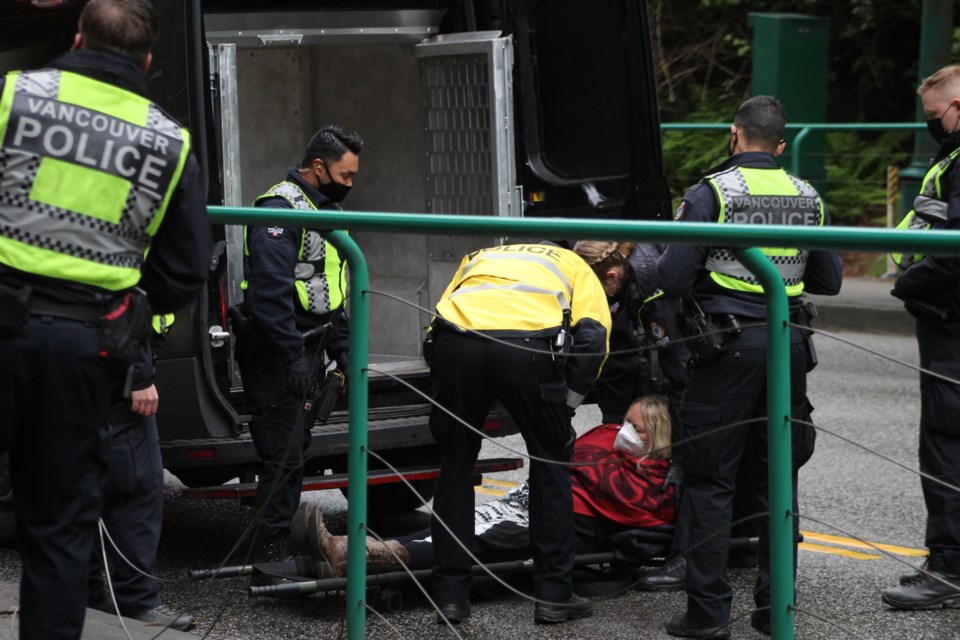 Maguire's arrest came the same year that police spent more than $3 million on policing protests in Vancouver, with most of them tied to climate change. Maguire, who is also a musician, is affiliated with the Extinction Rebellion movement, which has organized many protests in the city.
Maguire said she has helped the Vancouver chapter with artwork and performed at one of its fundraisers.
"For those of us who have been filling out petitions and protesting outside the Art Gallery for 30 years, nothing has happened — emissions have gone up," she said.
"Nobody listens until you become an inconvenience. If it wasn't for people who had blocked streets or infrastructure, women wouldn't be able to vote and we'd still have segregated water fountains."
@Howellings