It is a place where kids go to play, away from parents, but not so far away as to feel isolated. For parents, it is a place where they know their kids are safe, exploring the flights of their imagination nearby, but removed enough to feel independent.
The treehouse is as much a symbol of childhood as it is a tangible space. I didn't have one, for example, but growing up the idea of it still informed my play as I constructed laundry basket forts or cardboard space ships where I felt out of sight and free to create.
Friends and business partners Anita Gee and Audrey Hui have created a new space for young children and their parents here on the North Shore, their own take on the safe play environment, Treehaus.
In a diminutive but well planned room on a busy strip of Marine Drive in North Vancouver, Treehaus operates as a play café, a bright, play and learning-oriented business that is building a steady following based on personalized experiences rather than anonymous visits. What I mean by this is that Gee and Hui seek to understand the needs, goals, and dynamics of all of their patrons (most often moms and toddlers) and tailor an experience to them as much as possible. You see, Treehaus is predicated on active engagement; kids are supervised and led through active, educational play as parents sit (if they wish) on the other side of a modest partition separating the child play space from the adult café where espresso-based drinks, loose leaf teas, and a small but thoughtful selection of baked goods and light bites are available.
This column is a bit of a departure from my usual meal-focussed reviews in that it considers the space of the business and the patron experience of that space much more than it does the menu, which is modest and still a work in progress. 
My wife DJ brought our two girls to visit Treehaus Teahaus one recent weekday morning and struck up a conversation with Gee, not mentioning that I would be in later in the week to check out the space and the food for a column. When I eventually popped in over the weekend to get the lay of the land and chat with the owners to get a better sense of their mission, Gee quickly put two and two together, deducing from my description of my kids that they had been in earlier in the week, recalling their names, the games they played, and the interaction between my nine-year-old, Blondie, and her four-year-old sister. I was impressed by Gee's sharp recollection of her visitors and concluded that this will ultimately be one of the fundamental points of difference between Treehaus and other, previous play café businesses on the North Shore that ultimately folded due to a lack of defined concept.
Gee is a nurse in the Neonatal Intensive Care Unit at BC Women's Hospital and has a firm grasp of the health and safety needs of little ones. Hui is an educator of the Montessori school and Kindermusik program and arts and crafts leader; she understands progressive, informed approaches to educational play and learning. I imagine new parents will feel at ease in the Treehaus environment, where children are led in play by such experienced experts. I know that DJ and I would have welcomed a 30-minute respite when our first-born, The Boy, was tiny. A coffee and a muffin in relative peace seemed such an unrealistic fantasy back in those days, long before Treehaus was even an idea.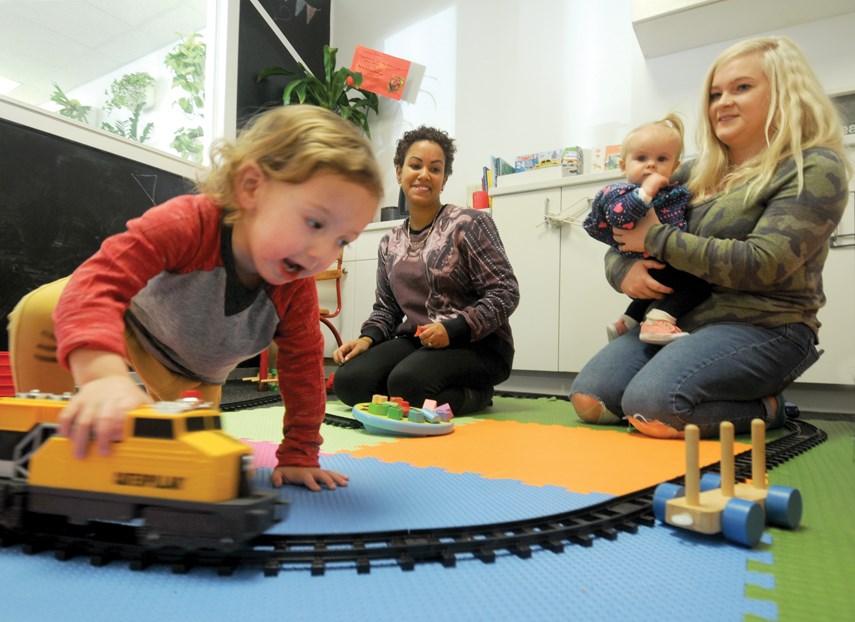 The Treehaus space is roughly divided into four areas: the café, the toddler play area, the infant play room, and the burgeoning, Wi-Fi enabled adult work space where, as the business develops in the coming months, parents will be able to plug in and hammer out some emails and get a bit of work done as their kids play nearby. Infants have their own secure, dedicated play space so as not to be overwhelmed by more mobile, exuberant toddlers visiting Treehaus at the same time.
A display counter at the espresso bar includes baked goods from local shops like The Modern Pantry, Whipped & Beaten Bakeshop, and the Conscious Cookie Co., which makes plant-based, gluten-free fare, while a good selection of organic loose-leaf teas are available from Silk Road Tea. On my visit, snacks included chocolate croissants, blueberry muffins, cheese twists, veggie quiches, and chocolate chunk cookies. Hui explained that in the coming weeks (likely after spring break), the menu will expand to more substantial lunch fare and will include sandwiches and soups.
I scored a delicious North Shore Cookie, an ingenious creation that featured nuts, chocolate, pretzels, and coffee, and was a great pairing for a stiff Americano. A cheddar-heavy, weighty cheese twist was a good savoury snack, while the vegan, gluten-free chocolate chunk cookie, consumed on a long car ride later that day, still felt pretty righteous despite its sizeable dark chocolate wedges.
As a professional educator led Circle Time for a very young audience in the infant play space, I sipped my coffee and tried not to look creepy in the absence of my own kids. Looking around the room at the comfy chairs, toy baskets, book shelves, plants, and bright lighting, you get the sense that Treehaus is meant to be inviting and familiar, like an extension of your own home, only with hospital-level cleanliness and child care expertise that likely outclasses most grandparents.
In the coming weeks, as the menu expands and a Lego wall is installed to appeal to the older siblings of Treehaus visitors (the space is geared towards a five-and-under audience) a calendar of guest speakers will be built out further for the Wisdom Wednesdays speaker series. Currently a Community Health Nurse drops in every second Wednesday.
Drop in rates are $5 for children aged six months and younger, $6 for toddlers between one and three years old, and $9 for kids older than three. Additional children in the same group are $3. There are no time limits on visits and 10-pack play passes are available and save you a few bucks over the course of multiple visits. Parents must remain on premise while their children play. The space can be booked for birthday parties or rented after hours for educational private sessions.
Treehaus Teahaus. 1705 Marine Drive, North Vancouver. Treehausteahaus.com. 604-281-1911. Closed Mondays.